Before Surgery: A 36 year old patient was embarrassed by her bulging, prominent mons pubis and labia majora. She was unhappy with the "girlish" appearance of her genitals, especially because her clitoral hood and labia minora were completely covered by her labia majora.
After Surgery: Surgery was completed with incisions in her natural folds between the outer and inner labia. 2 months after labia majora reduction and liposuction of mons pubis.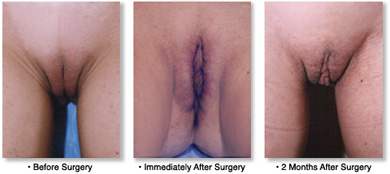 ---
FAT GRAFT AUGMENTATION OF LABIA MAJORA
Before Surgery: A 35 year old woman was embarrased by her exposed, prominent clitoral hood and labia minora.
After Surgery: 3 months after plumping of her labia majora using fat suctioned from the hip area, her inner lips are less visible.